Deck and Patio Services in Bethesda
We Can Enhance Your Outdoor Living Spaces
One of the best ways to spend a warm summer afternoon is surrounded by friends telling stories in your backyard. Whether you are grilling burgers or enjoying drinks under a canopy of stars, you are bound to have a good time. American Deck and Patio can enhance your atmosphere with beautiful exterior home features like decks, porches, gazebos, and more. We know you do not want to simply unfold a lawn chair and put it in the middle of your lawn. Each social experience should be one to remember. We have been honing our skills for more than three decades, and we have been offering our services in Bethesda, MD for nearly 15 years. As a result of our expertise, we can help you choose what type of outdoor features you want for your home and then make your vision a reality. Call us today to learn about our specialties.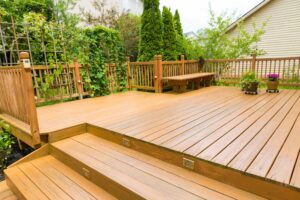 Our Comprehensive Deck and Patio Services
If you enjoy entertaining guests but want to improve your surroundings, the American Deck and Patio team can help. We provide a wide range of deck and patio services in Bethesda, MD, and we are confident we can offer several that suit your fancy. We know you do not want to settle for a cookie-cutter deck or pergola, so our design experts will customize an outdoor living space that matches your aesthetic and budget. During a consultation, we will take the time to understand your style and how you will use your outdoor features. This knowledge will enable us to create a one-of-a-kind deck, patio, or another element you will love. Our options include:
Decks
We build custom decks in Bethesda, MD using composite and wood decking materials. Our highly-skilled contractors utilize innovative construction techniques to ensure structural stability, functionality, and beauty. Each of our decks will complement your home's appearance, resist water damage during Maryland's rainy season, and last for years.
Rooftop Decks
Just because you may not have additional space around your home does not mean you should not be able to enjoy the luxury of a deck. American Deck and Patio allows you to build up rather than out. We construct rooftop decks using pressure-treated wood, hardwood, stone, or porcelain deck tiles. Such a feature will also enhance your home's energy efficiency and protect your roof.
Patios
American Deck and Patio are proficient at designing and installing eye-catching patios in Bethesda, MD. Choose from flagstone, brick, concrete, and other materials that align with your style and budget. Our team will analyze your landscape and offer suggestions about how you can best utilize your available space.
Porches
We create porches of all shapes and sizes. The only limits are your imagination, so we invite you to be creative. Of course, our experts will make recommendations and explain design ideas you may not have otherwise considered. Choose from the front, back, or wrap-around porches to improve your outdoor living space.
Screened Enclosures
A screened enclosure is ideal for homeowners who want to enjoy the lovely spring or autumn weather in Maryland without the pesky bugs that call the area home. We can customize a stunning screened enclosure for your home that enables you to breathe fresh air without having to spray yourself with insect repellent.
Sunrooms
Everyone can benefit from natural light. If you want to bask in the sun's rays without stepping foot outside, a sunroom from American Deck and Patio may be right for you. This type of setting is perfect for the cold Maryland winters when leaving your home requires a heavy jacket. Ask about our wide range of sunroom styles and materials.
Gazebos and Pergolas
If you want a free-standing feature in your front or back yard with all the benefits of a porch or deck, consider a gazebo and pergola. These structures protect you from Mother Nature's elements while you enjoy the outdoors. We use building materials such as low-maintenance vinyl, cedar, ipe, pressure-treated wood, and composites.
Why You Should Choose American Deck and Patio
American Deck and Patio take pride in helping our customers realize the joys of luxurious outdoor living. Each of our structures is aesthetically pleasing, foundationally sound, and functional, allowing you to host friends and enjoy the weather just outside of your home. Our contractors are licensed and fully insured, so you can be confident in our ability. We encourage you to peruse our gallery of past projects for inspiration and examples of our handiwork.
Contact American Deck and Patio Today
If you want to host outdoor get-togethers at your home, you will need beautiful, functional features attached to your house or in your yard. American Deck and Patio offers an array of decks, porches, gazebos, pergolas, and more in Bethesda, MD. Our specialists will help you design and select an outdoor living space that fits your style, and we can even help with financing. Contact us today for a free, in-home consultation.