High-Quality Deck Materials and Installation in Bethesda, MD
Customized Outdoor Space by American Deck & Patio
American Deck & Patio has been helping customers make their outdoor living dreams a reality for more than 30 years. Our team of passionate professionals provides high-quality materials, knowledge, and expertise to install custom decks, patios, gazebos, and more. Schedule a free consultation today to talk through your outdoor wants and needs and find out how American Deck & Patio can help!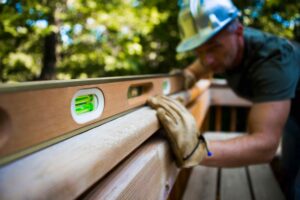 High-Quality Decking Materials in Bethesda, MD
It's impossible to install high-quality decks without high-quality decking materials. At American Deck & Patio, we only use the highest quality materials, tools, and processes to install decks in Bethesda, MD. For both standard decks and custom decks, we offer two types of high-quality decking for our contract projects:
Composite Decking – Composite decking is a man-made building product that has become increasingly popular in recent years. It has a wood-like appearance and is available in a variety of colors. Composite decking is more durable than traditional wood decking, and there is no risk of splinters!
Wood Decking – The most traditional choice for a deck installation project, wood decking has superior strength and a timeless, classic look. There are a variety of wood decking options with gorgeous grain patterns to choose from, including pressure-treated, redwood, and cedar.
Both high-quality decking materials are available. Our team is happy to discuss both decking options with clients so they can make the best choice for their home and budget. To find out more about deck installation options, schedule a free consultation today!
Under Deck Space & Storage
Homeowners are always looking for more space and storage. In response to this, American Deck & Patio offers under deck space and storage that is functional and aesthetically pleasing. Panels, which are available in smooth, beaded, or wood-grained embossed, are added underneath a deck to create a dedicated but hidden area for extra storage.
American Deck & Patio's Commitment to Sustainability
American Deck & Patio is committed to sustainability. A crucial element of sustainability is the longevity of products and projects. Composite deck installation extends the longevity of an investment in a home improvement project.
More than 70 percent of the projects completed by our team use composite decking products. Composite decking is created from a mix of recycled plastic and recycled wood fibers. Due to the durability of composite decking, it doesn't crack, rot or warp. This type of decking is also resistant to mold, mildew, and invasive insects that could impact the longevity of the decking material.
Choose American Deck & Patio
With years of experience and a passion for providing high-quality service and custom outdoor spaces, American Deck & Patio is an excellent choice for your next project. Here are four reasons to choose us for new decks:
American Deck & Patio offers exceptional craftsmanship and attention to detail. Our team designs decks and patios to ensure that they tie into your home structurally and aesthetically, so it appears that the two structures were built together.
The enhanced engineering from our experienced team ensures that every structure we build has the utmost structural integrity. We know the elements necessary to support every structure we build, from patios to gazebos, resulting in an extremely long-lasting addition to your home.
Efficient water drainage is a specialty of American Deck & Patio. All our outdoor space designs are created with efficient water drainage in mind. This is a crucial piece of our overall high-quality service.
American Deck & Patio always pays attention to style when designing and installing a new outdoor space. We are proud to offer a wide array of styling choices that will complement or enhance the aesthetics of your property.
Inclusive Financing Options Available
American Deck & Patio offers inclusive financing options for projects of all sizes. Financing can be obtained with minimal paperwork and includes affordable monthly payments with up to six months of delayed payments. Inclusive financing does not have any annual fees or prepayment penalties. American Deck & Patio also offers a five-year warranty on the structure and artistry of all completed projects. To get your next deck installation project started, contact us today to schedule a free consultation!