Deck Contractor in Bethesda, MD
Customized Outdoor Space by American Deck & Patio
For more than 20 years, our decks have been the highlight of our services. Whether you go for a more traditional deck or opt for a customized deck, the professionals at American Deck & Patio are here to provide that extra special touch to your outdoor living space.
As a fully licensed and insured company, we have built unique and affordable projects throughout Bethesda and surrounding communities, including franchising in the Virginia and DC area. Our mission is to maintain the use of quality material while implementing innovative construction techniques that keep your outdoor living space structurally sound, functional, and aesthetically pleasing.
Call today to set up a free, in-home consultation!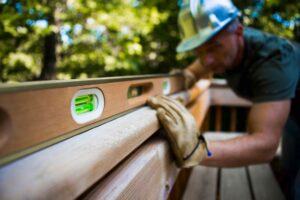 American Deck & Patio Maintains the Following Priorities
Making sure our deck structure ties into your home: We offer exceptional craftsmanship and keen attention to detail. With us, no one will believe you purchased your home and deck separately.
Having integrity with our construction and structures: We understand what it takes to support a designed structural load, and we apply aspects of engineering that make our decks built to last.
Water prevention: The rainy season in Maryland can be extreme, and we'll provide the utmost in quality craftsmanship to ensure your deck is built with efficient water drainage in mind.
Project aesthetics and quality trim: American Deck & Patio will never cramp your style! We offer a variety of trims that will compliment your deck and surpass all your aesthetic needs.
Quality Decking Materials in Bethesda, MD
Choosing the right contractor to create your traditional decks or customized decks for your outdoor living space is crucial to a successful installation project. With American Deck & Patio, you'll never have to compromise what you want. The only limits you will be faced with will be your imagination and your outdoor areas available space.
Investing in a new addition to your home can be intimidating, but our highly skilled patio & deck contractors in Bethesda, MD are here to walk you through the process with ease, involving you in every step of the process; from the free in-home design consultation to the flawless finish. When requesting a patio deck or custom deck design for your new outdoor living space, we offer the following material.
Composite Decking: This is a human-made building product that has grown in popularity over the years for its durability and wood-like appearance. Our composite decking is available in a wide variety of colors to fit all your aesthetic needs, and as an added bonus: you'll never have to worry about getting a splinter stuck in your foot again!
Wood Decking: For those who prefer superior strength and the classic look of real woods beautiful grain patterns. We provide a range of wood materials to choose from, including redwood, cedar, and pressure-treated
We've been crafting traditional and custom-made decks for our clients since our founding in 1989 and have received many accolades for our exceptional customer service and commitment to education. We love to educate our clients on all the prospective features of their outdoor living space, as well as how to care for and maintain our installations.
Green Practices at American Deck & Patio
At American Decks & Patio, we are committed to sustainable environmental building practices. More than 70 percent of our projects use composite decking products, which include an approximately equal mix of recycled wood fibers and recycled plastic.
Additionally, since composite decking is so durable, it will never rot, crack, or warp, and is resistant to invasive insects, molds, and mildew. As we know, longevity is a crucial aspect of going green. The longer your investment lasts, the less impact it will have on the environment no matter how much material is used. During your free, in-home consultation, we can discuss all the ways you can maximize your outdoor living space while staying environmentally conscious.
Under Deck Space & Storage
Within the past few years, this feature has grown in demand due to the added storage or "staycation" space it provides. Our team can provide you with exceptional space and storage beneath a deck that is both highly functional and aesthetically pleasing. Under deck, panels are customizable when it comes to color and are offered in three different textures: smooth, beaded, or wood-grain embossed.
One of our professionals can begin to look at your space and see if under deck space and storage can be applied to your outdoor space.
Financial Options
At American Deck & Patio, we offer a five-year written warranty on our structure and artistry, as well as inclusive financing options. These financing options include:
Affordable monthly payments
No prepayment penalties or annual fees
Up to six months of delayed payment options
Minimal paperwork
American Deck & Patio have experienced, reputable, and qualified contractors you can trust. We will do whatever it takes to make sure your patios and decks exceed your expectations, from an immediate start all the way through completion. Get a quote today!