GAZEBOS AND PERGOLAS  IN BETHESDA, MD
We Install Beautiful, Reliable Pergolas and Gazebos
The best place to enjoy views of fresh spring blooms and beautiful fall colors is an intimate outdoor living space at your home. American Deck and Patio customize and install gazebos and pergolas for homeowners in Bethesda, MD, and the surrounding area so that they can enjoy these simple pleasures. We have earned a reputation in the community for delivering exceptional customer service and unrivaled workmanship with each of our projects. We take the time to understand what our customers want and strive to turn their visions into reality. Our highly-attentive contractors will help you understand the construction process and benefits of your backyard getaway. Call us today to learn more.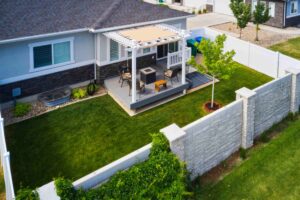 What Are Gazebos and Pergolas?
Gazebos and pergolas are outdoor living spaces that offer many of the same benefits of a deck or porch but are not necessarily attached to your home. Their freestanding nature allows you to incorporate various landscaping accents and other features to enhance the appearance of your home's exterior. The main difference between gazebos and pergolas is the existence of a roof. Gazebos are open-walled structures with an adjoining roof to protect you from spring rain showers and provide shade, while the awnings of pergolas comprise rafters that allow sunlight to shine on you. We construct custom gazebos and pergolas using materials such as:
Low-maintenance vinyl
Cedar
Ipe
Pressure-treated wood
Composites
Our Team Offers an Array of Gazebo and Pergola Styles
We do not want you to settle for a generic gazebo or pergola that you find in a catalog or website. Our team of design experts can help you customize an outdoor living space that complements your home and garden while reflecting your sense of style. During a consultation, we can discuss your vision and make suggestions about how to enhance it. Our team will also share examples of past projects for further inspiration. Style choices include:
Gazebos – The most common gazebo style is an octagon because it beautifully accentuates most homes' architecture, but oval gazebos are increasing in popularity. An oval provides longer sides with more space for entertaining guests. Another option is a rectangular gazebo, which is ideal if you want to include a bathhouse or hot tub.
Pergolas – We will design and construct your pergola to match its surroundings. The traditional pergola features a post and bracket-style that includes a flat roof supported by posts and stabilized by brackets. This option typically showcases arches on either side. We can also build classic column pergolas with ample spacing for activities and rooftop and terrace pergolas that can connect to an indoor living area.
Treat Yourself to a Gazebo
Though these ornamental shelters are typically stand-alone, you can also choose to attach one to your home or deck. Homeowners throughout Bethesda, MD choose American Deck and Patio to create and install their gazebos because of our extensive experience and commitment to excellence. Among the benefits of gazebos are:
Elegance – Strolling to your gazebo to read the morning paper can feel like a brief, elegant outdoor vacation.
Peacefulness – Whether you are relaxing while a cool breeze blows over you or relishing in the serenity of a calm summer's eve, your gazebo is an ideal place to spend your time.
Shade – Experience the outdoors without subjecting yourself to the sun's hot rays. Your gazebo's roof will shade you from them.
Value – In addition to being a relaxing setting for family and friends, your gazebo will also increase the value of your home.
Benefits of a Pergola
A pergola is an ideal structure for plant lovers who enjoy spending time outside. You can accentuate your outdoor living space with climbing vines and hanging flowers while basking in the sun on a warm spring afternoon. We can build your pergola at any height you desire, and we can even vary the height for a tiered effect. Benefits of a pergola include:
Classic Look – Pergolas date back centuries and have an air of luxury about them. Boost the elegance of your yard with this traditional structure.
Customizable – You can decorate your pergola with plants, furniture, and accessories to make it uniquely yours.
Relaxation – With beams across the top of your pergola, you can partially shade yourself from the sun while still enjoying the outdoors.
Why You Should Choose American Deck and Patio
American Deck and Patio is the leading gazebo and pergola installation company in Bethesda, MD. We are committed to providing structurally-sound, beautiful outdoor living spaces for our neighbors throughout the region. Our team accomplishes this mission by incorporating environmentally-friendly building practices and maintaining constant communication with each customer throughout their projects. We can even help with financing. Each of our structures is built with high-quality materials and comes with a five-year warranty. Contact us today to schedule your free, in-home consultation.