Screen Enclosures in Bethesda, MD
Enrich Your Home with a Screen Porch Enclosure
American Deck and Patio have years of experience providing what homeowners require to build the house of their dreams, one addition at a time. Nobody should think of their residence as a finished product. We help you find ways to breathe new life into your home and enhance your quality of life. One of the areas we shine in is screened enclosures. Bethesda, MD residents use them to combine the joys of having an outdoor living space with an indoor environment. They allow the gentle evening breeze to enter, but not bothersome bugs. American Deck and Patio's customized screen enclosures also deliver excellent protection from weather elements and UV rays.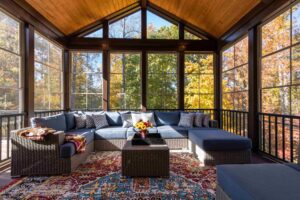 Why Should I Consider a Patio Screen Enclosure?
As with all home improvement measures, screened-in porches provide homeowners with an opportunity to make a small, but significant improvement to their house. Not only will your standard of living increase, but your home's resale value will go up. American Deck and Patio recommend screen enclosures as a cheap and non-intrusive home improvement plan for homeowners who might be selling their home in the future. But screened-in living spaces benefit long-term residents as well:
No more itchy bug bites: Everyone loves having a porch to watch the sun go down and drink a cold one. And who doesn't enjoy a quiet conversation with their significant other on a warm summer day? Do you know what nobody likes? Bugs. Mosquitos, flies, and other flying pests transform relaxing evenings into bug-bitten mornings. With a screened-in porch, you can ditch the bugs while still enjoying your porch.
Play cards all night long: Whether you enjoy playing cards or something else, a screened-in porch provides a great location. The screen doesn't just keep bugs out; it can also enable great "porch hangs" even during rain. By installing an enclosed screen, homeowners can create a more flexible living space, capable of accommodating more activities.
Entertain larger groups of people: Building a home addition isn't the only way to expand the size of a small house. By adding a screen to your porch, you can essentially add another room to the home and create the illusion of a bigger house. Plus, you can invite more people to birthday, Super Bowl, or Fourth of July parties, safe in the knowledge that you have a great communal space.
Enjoy Maryland's views in private: When you open a wide-open patio or porch, there's no shielding your activities from prying eyes. Most people live in neighborhoods where houses sit near each other. However, building a screened-in porch can prevent prying eyes.
Make your neighbors jealous: Most homeowners want their houses to look dazzling from the street. If you have a front-facing patio, then why not create a patio screen enclosure? Your neighbors will see it as they drive or walk by, making you the envy of the neighborhood.
Customize, customize, customize: It's your house, and it can reflect your personality. You can do a lot of things with a screened-in porch not possible with an open area. You can install speakers and run the wires into the house for an outdoor music experience. You're not going to be limited to outdoor patio furniture either, so feel free to decorate however you want. It's incredible how much of a difference a mesh screen enclosure can make in your Bethesda, MD home.
Why Choose American Deck and Patio for Your Screen Enclosure
When you decide to make improvements to your house, you need to choose wisely. Working directly with a company that provides customization options is crucial. After all, no two customers or homes are the same. American Deck and Patio offer the flexibility required to perform outstanding custom screen enclosure work. Our team has a full understanding of the challenges of home improvement projects present. We know how to bypass them so you can enjoy your new screened-in porch sooner rather than later. Bethesda, MD residents place their trust in us due to our extensive experience and willingness to work with our customers to find solutions. Since 1989, our company has offered green practices and robust financial options. For instance, we provide affordable monthly payments, no prepayment penalties or annual fees, up to six months of delayed payment options, and as little paperwork as possible.
Get Started with Your Screened-In Patio Today
American Deck and Patio are committed to making front and backyards throughout Bethesda, MD and the surrounding communities look outstanding. Screened-in porches provide too many upsides to not seriously consider ordering and installing a custom screen enclosure. But American Deck and Patio understand some clients might be looking for something different. We also provide decks, patios, porches, sunrooms, and even gazebos and pergolas. There's no reason to delay your next home improvement project. We offer free quotes!