CUSTOM PORCH DESIGNS IN BETHESDA, MD
Get Innovative Porch Design Ideas from American Deck and Patio
Covered porches can be a lovely addition to homes in Washington, DC, Virginia, and Montgomery County or Bethesda, Maryland. Whether you want to enjoy a warm summer breeze in front of your home or watch your children play in your backyard from a cozy, shaded spot, American Deck and Patio can give you the perfect porch for your home. We offer a variety of options to fit your needs. There are three main options for installing a new porch to your home that we specialize in:
Front porches
Back porches
Wrap-around porches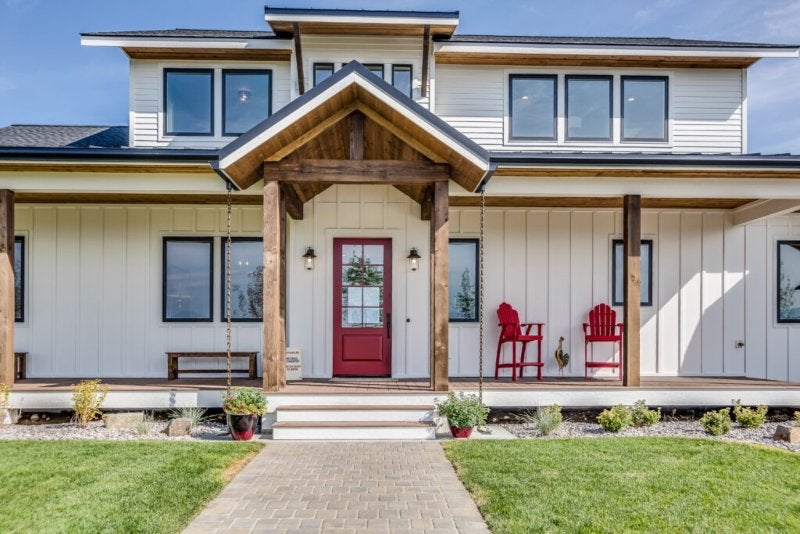 Bring Out Your Home's Personality with These Porch Design Ideas
There's no "one-size-fits-all" when it comes to porches. Every home has a unique personality and story to tell that's just waiting to be brought out in its outdoor design and architectural elements. While porches may come in all shapes and styles, there are some common design elements they all share. Follow these porch design ideas to ensure your satisfaction with your new porch:
A Porch for All Seasons: While the word "porch" usually conjures up images of people sitting in rocking chairs and sipping lemonade during the summer, the reality is porches are meant to be enjoyed year-round. Wrap-around porches or those with screened enclosures are ideal for usage during all four seasons. Screens keep out pesky mosquitoes in the summer, as well as raindrops without sacrificing the satisfaction of experiencing a cool, crisp autumn breeze. Don't forget to include appropriate seasonal touches to your porch, such as pumpkins in the fall or a wreath on your front door around the holidays.
Combine Various Elements: The best porch designs offer a seamless blend of various design elements, including painted walls, posts, outdoor lighting accents, and comfortable furniture. For a pop of color to draw visual interest to your porch, consider brightly colored décor accents like throw pillows or vibrant curtains in your front windows. Adding porch greenery in the form of potted plants or flowers also enhances your home's curb appeal.
Set the Right Tone for Your Home: Like a hello and a handshake, your porch is what greets visitors and is the first thing people usually notice about your house. Ensure your home is setting the right tone by fusing elements that transition comfortably into your front room. Add value to your home by replacing worn-out porch railings, peeling paint, or warped floorboards. American Deck and Patio would love to help you transform your front or back porch area!
Think About Your Porch's Intended Use When Designing the Space
Whether you're building a new home or remodeling the one you own, American Deck and Patio specialize in porch design. Where and how your porch is situated dictates how much sunlight and shade it receives throughout the year. When designing your porch, you should think about its intended use. Do you plan to use your porch for quiet solitude or family gatherings? Obviously, you'll need more space on your porch if you intend to place a dining table, grilling area, or wet bar on it. A porch swing or built-in bench makes a practical seating option if space is limited while also adding undeniable charm. Consider installing ceiling fans on your porch to help with air circulation during the humid summer months or a fire pit or outdoor fireplace to keep you warm while sitting on your porch during the winter.
Enjoy a New Porch from American Deck and Patio Today
When you schedule your free in-home consultation with American Deck and Patio, one of our highly experienced project managers can discuss your options with you. Our goal is to provide a beautiful, unique porch design that is both functional and designed to last. We advise looking at our project gallery to get porch design ideas prior to your consultation. Once you've selected your concept of the perfect porch, we can also teach you how to maintain your new porch so you can enjoy it for many years to come. If you would like more information or wish to schedule your free porch design consultation in Bethesda, MD or the surrounding areas, please call us today.