CUSTOM SUNROOMS  IN BETHESDA, MD
Get Sunroom Ideas from American Deck and Patio
Imagine a room that allows you to experience the serene beauty of the great outdoors, a panoramic view, and amazing lighting without exposing you directly to the elements like your porch or patio. This room would be a sunroom, a room that's neither entirely indoors nor outdoors. Sunrooms add instant value and curb appeal to any home without requiring as much installation time or cost as other larger-scale home renovation projects. However, sunrooms are way more than just enclosed porches!
Today's sunrooms are quite versatile. American Deck and Patio can build a custom sunroom for any Bethesda, MD or Washington, DC-area home. Sunrooms often make excellent workout rooms and home offices, as well as natural-feeling extensions of your living room or kitchen. A sunroom can be used for entertaining, as a greenroom to display your garden, like a sunny breakfast nook your kids and pets will love, or essentially as any room you would like it to be. It's no wonder that sunrooms remain one of the most popular and cost-effective ways to renovate your home. Contact us today to request a free in-home design consultation and design your dream sunroom!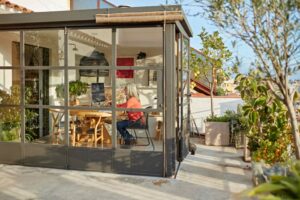 What Sunroom Styles and Materials Do You Offer Homeowners?
American Deck and Patio know our customers like having customization options for their sunrooms. That's why we offer several different sunroom styles and materials for you to choose from, including all of the following:
Straight-roofed
Curved roof
Cathedral-style
Conservatory-style
Wood
Vinyl
A Cathedral-style sunroom is one that makes use of a tall, vaulted ceiling (like a church cathedral) to bask the room in natural sunlight from all angles. A conservatory-style sunroom evokes the feeling of a classic Victorian conservatory with a bayfront, pitched roof, and an all-around glass enclosure. While a conservatory-style sunroom features a timeless design, it still has a contemporary look and feel. Conservatory-style sunrooms make a popular choice for homeowners with a pool or a wooded view.
Design Elements for You to Consider When Adding a Sunroom
So, you've decided to install a new sunroom on your Bethesda, MD-area home, but you aren't quite sure what elements it needs. Here are a few sunroom design ideas to help you get started on your project:
A Year-Round Comfortable Oasis: You should be able to enjoy your new sunroom year-round. Since Maryland experiences seasonal changes, you may want to incorporate certain elements such as a ceiling fan or stone fireplace to ensure your comfort during the summer and winter. Selecting the appropriate insulation and flooring is essential for homeowners wanting to hang out in their sunrooms throughout all four seasons.
The Color of Your Sunroom Matters: Painting your sunroom a bold color can help make the space feel vibrant and energized, while neutral tones can help make it feel more tranquil. Adding greenery evokes privacy and serenity while adding vintage or overstuffed furniture creates a cozy feel. Decide how you intend to use the sunroom and let that dictate what space needs to feel complete.
Sunrooms Come in All Shapes & Sizes: Sunrooms come in all shapes and sizes to fit whatever budget or style requirements you have in mind. While functionality should always come first, you should also pay careful attention to your home's style to ensure your new sunroom is compatible with the rest of your architectural design.
Discover What a Sunroom Can Do for You and Your Family Today
It's difficult to describe what installing a sunroom can do for you and your family. Let our testimonials and photo gallery speak volumes about the endless possibilities when you partner with our skilled design team at American Deck and Patio. In business since 1989, we combine top-quality materials and innovative construction techniques to ensure your total satisfaction. Our company is fully licensed and insured and offers an unbeatable five-year written warranty on our structures and workmanship.
Contact Us to Schedule a Free In-Home Design Consultation in MD
At American Deck and Patio, all our sunrooms in Bethesda, MD are custom-built for your home and designed to fit your preferences. We aim to give you a sunroom that looks amazing and is top quality. Call us today to schedule a free in-home design consultation. Whether you have sunroom ideas already in mind or you could use some inspiration from our experts, we aim to please. You needn't let the costs of adding a sunroom hold you back either. Not only do we make our home renovation projects as affordable as possible, but we also offer financing options with monthly payments and even deferred payments up to six months. Install your new sunroom now and pay later!